Whitney's back on the charts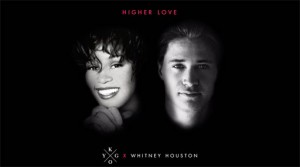 Whitney Houston is back on the charts.
Billboard' reports that Kygo and Whitney's remake of Steve Winwood mega hit 'Higher Love' has entered the pop chart at number 63 this week.
The original version of the song won the 1986 Grammy award for Record of the Year — beating Whitney Houston's "Greatest Love Of All" and three other hits.
Houston recorded "Higher Love" in the late '80s, though it was released only in Japan, as a bonus track on the physical version of her 1990 album I'm Your Baby Tonight.
It's fairly unusual for an artist to cover a Grammy-winning record of the year.
That award, after all, is a strong indicator that a song has been recorded definitively.
The winning version is going to be hard to follow — and almost impossible to top.
But over the years, numerous covers of Record of the Year winners have achieved Hot 100 success.
These are covers that charted after the earlier version won Record of the Year.
The closest parallel to Houston covering "Higher Love" is probably Aretha Franklin covering Simon & Garfunkel's pop hymn "Bridge Over Troubled Water," the 1970 winner for Record and Song of the Year.
Franklin's version reached no. 6 on the Hot 100 in 1971. It won a Grammy for best R&B vocal performance, female — one of the few times a cover of a Record of the Year winner has won a Grammy of its own.