Several people injured at Gay Pride Parade in Washington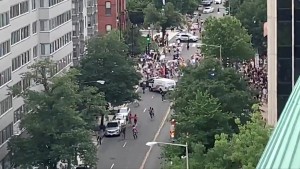 Several people were injured at a Gay Pride Parade in Washington when some in the crowd ran to escape what they thought was gunfire.
A man was later arrested when police found a firearm close to him on Saturday last.
Police, at the outset of the incident, received a report of a man with a gun at a park.
Washington Police Commander Guillermo Rivera says as the officers were going to that scene there was a crowd of people running away from it.
He says some of the individuals in the crowd claimed there was a man with a gun and that someone had fired shots.
But police did not find any evidence of shots fired.
Seven people were taken to hospitals with non-life threatening wounds they sustained in the disturbance and a number of other people with minor injuries were treated at the scene.
The name of the man arrested after police found a firearm near him was not immediately released.