Reggae Artiste Etana's new single encourages women to be natural and embrace themselves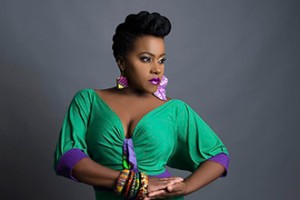 Reggae recording artiste Etana has always been vocal about being natural and true to oneself in previously recorded material, but now she is even more direct with this message.
Etana's new single, "The Way I Are/ Natural Woman" was written primarily by the artiste and produced by Beatnick and K-Salaam, encourages women to embrace themselves and knowing who they really are on the inside and not being afraid to show it on the outside.
The roots reggae princess is already well known for her strong vocal ability and also delivering relatable songs that are socially conscious said that the new single holds true to her own lifestyle and outlook.
Etana says people always inquire why she wears makeup sometimes and other times don't.
The artiste says her answer has always been; if it wasn't for music and image she would wear nothing at all except for clothes of course! But she understands the role of an artist and even in presenting herself, she must be comfortable.
The single is currently being accompanied by an instagram competition where fans detail in a one-minute video why they believe women should love themselves the way they are.