Nicki Minaj introduces new app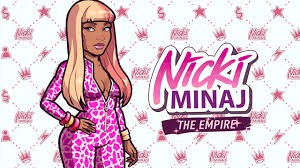 Nicki Minaj is coming to take over the world of gaming.
In collaboration with popular developers and publishers of mobile games Glu Mobile INC. (the exact company behind Kim Kardashian's "Hollywood" game) Nicki Minaj has created her own kind of mobile fun called "Nicki Minaj: The Empire".
The game will be primarily based on rap music and it allows the player to create their own music by recording their voice using the app which will then be selected by minaj and her team to be featured all across her social media.
"Nicki Minaj: The Empire" is now available on IOS and Android.