Nicki may tie the knot…has some strong words for Miley Cyrus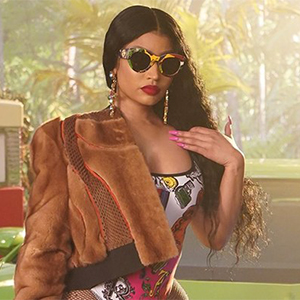 Is Nicki Minaj getting ready to tie the knot with boyfriend Kenneth Petty?
The rapper seemed to drop a hint about upcoming nuptials during her Queen Radio Show last Friday, telling fans that she and Petty had taken one of the first steps toward becoming husband and wife.
The Trinidad and Tobago born rapper told her audience she and Petty got their marriage license.
She believes she has what she was striving for…just happiness.
According to Nicki it is so hard to get to a happy place and now that she is there she does not want to compromise that for anyone or anything."
Minaj and Petty went public with their relationship late last year.
The rapper made things Instagram official last December, when she posted a series of pics of the pair snuggled up together.
Meanwhile Nicki Minaj has strong words for Miley Cyrus.
During last Friday's episode of her Apple Beats 1 show, Queen Radio, the rapper, appeared to respond to Cyrus' new song "Cattitude," which includes the lyric: "I love you Nicki, but I listen to Cardi."
The line references Minaj's feud with fellow rapper Cardi B, which escalated in a heated dispute at the Harper's Bazaar Icons Party during New York Fashion Week last September.
In response to a question about 26-year-old Miley Cyrus, Nicki said, "a Perdue chicken can never talk about Queens".
She said she has noticed a lot of Perdue chickens recently trying to say the Queen's name for clout.
And that's always been happening.
The rapper added: that's what Miley Cyrus did in the first place.
She said then the white girl cried and made the black girl seem like she was a bad guy.
Nicki said in the first place, Miley disrespected her in a magazine article for no reason."
Minaj also made a reference to Cyrus' black mirror alter ego, Ashley O.
She said…too many people want to be Nicki, that is the problem.
Minaj and Cyrus' feud dates all the way back to 2015, when the "Wrecking Ball" singer called Minaj "not too kind" in an interview with the New York Times.